Day 4 - Surrender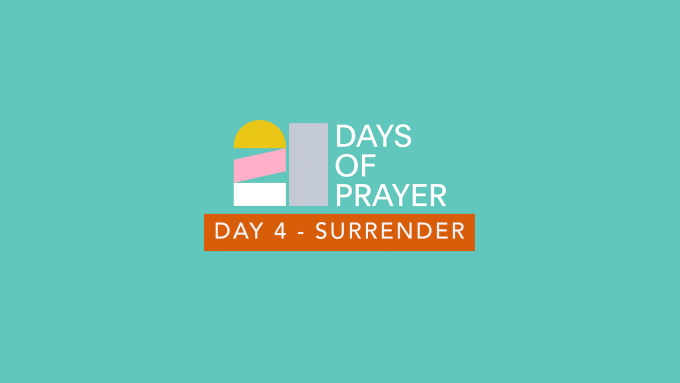 Author: Mary Hatch
"I have been crucified with Christ. It is no longer I who live, but Christ who lives in me. And the life I now live in the flesh I live by faith in the Son of God, who loved me and gave himself for me." Galatians 2:20
According to the Merriam-Webster dictionary, one definition of surrender is to yield to the power, control, or possession of another. How many of us would feel safe surrendering to someone? Think about your own circles for a minute. Is there anyone you would feel safe surrendering to? My own life has been a journey of learning who is safe and when it is appropriate or necessary to surrender. It has also been a discovery of how significant surrendering to Jesus is in my life as a follower of Him.
Surrender is a moment by moment process of me choosing to follow Jesus, to walk in His footsteps, to open my hands and receive whatever He has for me, to become more like Him in words and actions. (Galatians 5:25, Colossians 3:1-4, Romans 12:1-2) It is a conscious effort of saying "yes" to serving another, to putting another's needs or wants ahead of my own, to whatever He asks me to do. (Galatians 2:20, 1 Corinthians 13:4-7) Surrender is trusting that God is good, that His plans for me are to prosper and not harm me, to give me a future and a hope. (Psalm 91:2, Psalm 84:11, Jeremiah 29:11) It is believing that He loves me and His love is pure, His perfect love casts out fear, and nothing can separate me from His love. (1 John 4:18, Romans 8:38-39)
Do you believe that Jesus is one whom you can surrender to? Are you willing to join me in opening your hands to Jesus and saying "yes, to whatever You have for me?" To trust in His heart for you regardless of what lies ahead?
PRAY: Lord, You are faithful and true; You are goodness and love. No good thing will You withhold from those who walk uprightly. I want to trust You with whatever comes my way today. Please help me to say "yes, Lord" to whatever You have for me. Thank you for being trustworthy; for being my safe place. In Jesus' name, amen.