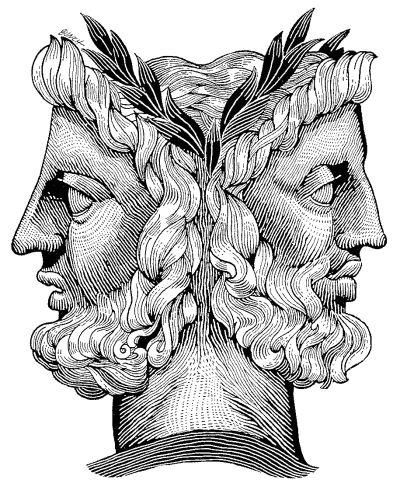 The month of January is upon us!
Did you know that the month of January got its name from the ancient Roman god named Janus? As you can see, Janus was a two-faced god who kept his focus on the past and the future. Actually, he was worshiped as the god of new beginnings.
Jesus, the one true God, had a lot to say about being two-faced… but that's a topic for another day.
Christ Jesus seemed to always be pointing his followers to the greatness of a new season. He said, "you don't add new cloth to an old garment and never put new wine in old wineskins" (Matthew 9:16,17). Jesus was about the new! He gave us a new commandment, a new covenant, a new purpose and a new life!
When it comes to finding the new in the next season of your life, the apostle Paul says it best, "forgetting those things which are behind, and reaching forth unto those things which are before, I press toward the mark for the prize of the high calling of God…" (Philippians 3:13,14)
Here are five ways to start fresh in 2018.
1. Learn from the past, but don't live there.
Don't be two-faced about your identity in Christ or double-minded about your future in Him. It's hard to find the new when your default button keeps taking you back to your own past failures and/or your disappointments with others. Peter says, through His divine power God has given us everything we need to live a godly life in the next new season of our life! (See - 2 Peter 1:3)
2. Do something about the pain.
It's been said, pain is our body's way of warning us that something is wrong. Hunger pangs tell us to eat. Sunburn pain encourages us to find some shade. Chest pain tells you to get to the hospital. A sharp aching from your hand tells you to remove you finger from the car door.
Stop feeding the monsters and seek some help! If you feed a lion steaks everyday, you can't expect him to turn into a vegetarian. Stop feeding your past hurts by meditating on them and replaying the drama in your mind. If you keep feeding the hurts of yesterday, your fears and sorrows will be made stronger and they will continue to dominate your tomorrows.
3. Renew your old thoughts with new truth.
One of my favorite verses: Romans 12:2 Do not be conformed to your old worldly way of thinking, but be transformed by the renewal of your mind, that by testing each thought and experience you may discern what is the will of God for this next season, what is good for your future and acceptable in the eyes of God and perfect, designed just for you (Italics mine).
4. Laugh more, sing louder, be stronger!
Psalm 37:12,13- The wicked plots against the righteous… but the Lord laughs at the wicked for he sees that his day is coming.
Psalm 40:3- He has given me a new song to sing, a hymn of praise to our God. Many will see what he has done and be amazed.
Psalm 31:24- Be strong, and let your heart take courage, all you who wait for the Lord!
5. Move forward.
Jesus said, "no one who puts his hand to the plow and looks back is fit for the kingdom of God." (Luke 9:62).
The new year is upon us! It's time to break up some new ground. Plant some new seed and get ready for a new harvest.
Say good bye to the past and move forward one step at a time!